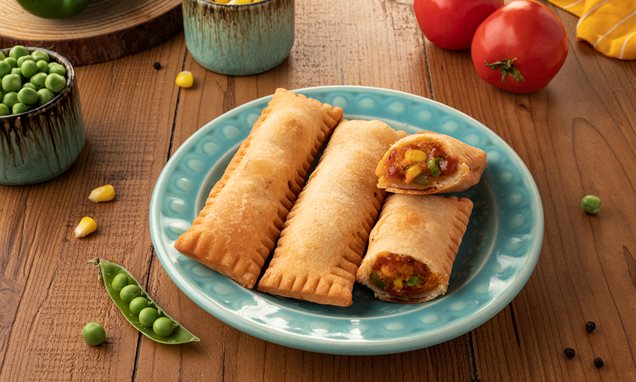 Pizza Puff
A savoury snack prepared and stuffed with choice of veggies and pizza sauce.
Recipe Ingredients
How to Prepare
Recipe Ingredients
-
3 Pieces
Garlic Cloves (chopped)
½ medium Green Capsicum (chopped)
Buy the Products
How to Prepare:
For dough- in a large mixing bowl add refined flour, baking powder, 3 tbsp oil and salt. Crumble and combine the flour well. Add water, knead the dough for 10 minutes or till the dough turns smooth and tight. Cover with a moist cloth and rest for an hour.
For stuffing- Heat 1 tbsp oil in a non-stick pan (medium flame). Add garlic, sweet corn, green peas and capsicum. Sauté vegetables for 3-4 minutes and season it with salt and pepper. Add pasta & pizza sauce and cheese to above vegetables, stir well and take it out in a bowl.
Divide the dough in 2 balls. Roll it into a thin sheet as of a chapatti. With the help of a knife cut its sides to form a rectangle. Divide it equally into 6 rectangles.
Brush the ends with water, as it helps to stick. Put one tsp of stuffing on one side of the sheet and cover the stuffing with other half sheet
Seal all the sides with the help of a fork making sure that the stuffing doesn't come out and leaving a nice impression.
Make all the puffs like this. Heat remaining oil in a kadhai and fry the puffs until golden brown and crisp. Serve hot.
PLEASE RATE THIS RECIPE
How did this recipe go?
PLEASE RATE THIS RECIPE
How did this recipe go?
More delicious ideas for you